Yesterday, Disney decided to shutter long running indie film studio Miramax. While using "indie" to describe the relatively big studio, back in the day it was the indie studio, essentially helping make independent filmmaking more mainstream. So for that, I salute thee Miramax films! To Harvey and Bob Weinstein's creation!
Here are some of the studios most notable films that it produced or distributed.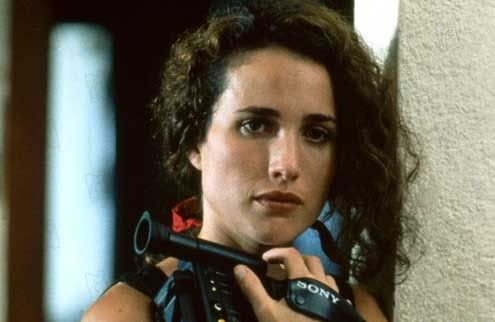 sex lies and videotape
(1989)
You can say this is the movie that started it all for the studio. While it only distributed the film, without it and it winning the Palme D'or at Cannes in '89, the American indie movement would be less nascent in the cultural, Steven Soderbergh would have been the anonymous director of a Yes live concert, and Miramax would have probably died a while back. Who knows.
My Left Foot
(1989)
Starring Daniel Day-Lewis as Christy Brown, the film was the first film that Miramax was associated with to be nominated for Best Picture at the Oscars. Also, Day-Lewis won his first Best Actor award.
Reservoir Dogs
(1992)
The film that introduced the film world to potty-mouthed, bad boy director Quentin Tarantino.
The Crying Game
(1992)
Thanks to smart marketing involving the film's twist (you know, girl turns out to be a dude), it became a big hit and garnered 6 Oscar nods.
The Piano
(1993)
An art house classic, the Piano helped the studio earn even more awards and helped bolster it's already positive reputation.
Clerks
(1994)
While Kevin Smith has certainly lost his groove as a director,
Clerks
is arguably
the
cult film of the 90s and at one point was the hottest young director in America. You can thank Miramax for finding hope in the low-budget comedy.
Pulp Fiction
(1994)
A film that needs no introduction, Pulp Fiction was a big hit in '94 and is a defining film of the decade. Lines from the movie have entered the cultural lexicon and the film help solidify Quentin Tarantino as a top director.
Kids (1995)
Content wise, Kids reminded us of Miramax's indie roots, despite the fact it only distributed it. The film introduced Rosario Dawson and Chloe Sevigny and art house director Harmony Korine wrote the script.
Trainspotting
(1996)
Another film that needs no introduction, Trainspotting is another modern classic distributed by the studio. The film made Ewan MacGregor a star and is considered to be one of Britain's best films ever.
The English Patient
(1996)
After years of having it's filmed showered with awards around the world, Miramax finally got the coveted Best Picture prize at the 1996 Oscars, winning a whopping 9 nine Oscars that year.
Good Will Hunting
(1997)
While we can the discuss the film's reputation (Patton Oswalt, in one bit, said it would be recited by Avril Lavigne during the Apocalypse) the film nonetheless won a screenplay Oscar Matt Damon and Ben Affleck. While Affleck's career may have floundered, Damon's is still strong. It can be also be seen as the film Gus Van Sant finally earned mainstream vindication, after years of working hard as one of the leading voice of indie filmmaking in the 90s.
Life is Beautiful
(1998)
While
Il Postino
(1995), Miramax's other big foreign film that it distributed was nominated for Best Picture, Life is Beautiful was a bigger hit and Roberto Benigni won an Oscar and became a household name.
Shakespeare in Love
(1998)
Another film where we may have to question it's artistic merits,
Shakespeare in Love
gave Miramax it's second Best Picture win, beating some movie called
Saving Private Ryan.
Amelie
(2001)
Miramax, already known for marketing foreign films into unexepected hits, unleashed the inconic cuteness of Amelie on the American populace in 2001. It raked in $33 million at the box office (IMDB), earned 5 Oscar nods and turned Audrey Tatou into an international star.
Chicago
(2002)
The Miramax produced musical brought in $170 million dollars, won 6 Oscars (including Best Picture) and help bring back the musical, the genre that had been dormant for about 30 years.
Gangs of New York
(2002)
The film that started Martin Scorsese's Best Director Oscar putsch, the film only brought Daniel Day-Lewis out of retirement, and help transform Leonardo DiCaprio from baby faced teen heartthrob into a serious leading man.
Kill Bill
(2003/2004)
The ambitious two part epic revived Tarantino's flagging career and reignited interest in kung-fu and spaghetti western films. It also reminded audiences that David Carradine is awesome.
Fahrenheit 9/11
(2004)
While not officially a Miramax film, Michael Moore's controversial documentary was financed by the Weinstein brothers and was almost distributed by the studio. Disney got in the way, and it was released through another studio. Disney proved to be on the wrong side of the argument as
Farenheit 9/11
became the highest grossing documentary ever and earned Michael Moore another Oscar for Best Documentary.
The Aviator
(2004)
I almost decided not to include this one, due to the fact that this movie had many studios financing and distributing it. But it is notable, as it brought Scorsese closer to the Best Director Oscar that had so eluded him for many years (He lost to Clint Eastwood though).
The Queen
(2006)
Stephen Frears docudrama featured Helen Mirren's Oscar winning performance as Queen Elizabeth II and her handling of the aftermath of Princess Diana's sudden death.
No Country for Old Men
(2007)
The Coen Brothers' dark neo-western is probably the best movie of the last ten years, winning 4 Oscars and Javier Bardem's brooding performance as mysterious hit man Anton Chigurh has become a part of pop culture's "fucking scary" sector.
There Will Be Blood
(2007)
I'll explain later why Miramax died, even if in 2007 it released
two
masterpieces that have entered the cultural conciseness.
There Will Be Blood
earned a second Oscar for Daniel Day-Lewis and changed the way we look at milkshakes.
Doubt
(2008)
Continuing Miramax's history as an the premier art house studio, 2008 saw the release of the acclaimed Doubt. It can be seen as Miramax's last important film considering that 2008 and 2009 saw the release of forgettable films like
Smart People, Blindness,
and
Everybody's Fine
.
Once the big "indie" studio in the country, Miramax is another casualty to the many Indiewood production houses that have been shuttered up in the past few years. Without these studios bringing challenging films to the American populace, the next few years are gonna suck.