Cannes is funny. You get films like
Blindness
, then you get films like
Kung Fu Panda
. Talk about diversity. Anywho, the films in competion today were one from Argentina and one from Israel.
Pablo Trapero gets smooches from the stars/fuck buddies of his latest film,
Lion's Den
, which is about a pregnant women in jail, who gives birth and must decide to raise him or not. Below me is a nominee for photo of the year:
The other film is from Israel. Ari Folman directs
Waltz with Bashir
, an animated film about certain Middle East topics. Judging from the screenshots, this one looks like this years Persepolis, something that will change animation.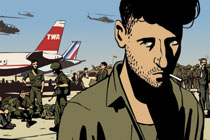 Some more later or tomorrow. I'm out.